Locks
This page is about the locks themselves. Expect to learn about the technology of mechanical keyed locks and some tips about picking them. I focus mostly on high security stuff these days so you'll probably see mostly that sort of thing. Random lock-geek exam: Check out this picture and see how many locks you can identify.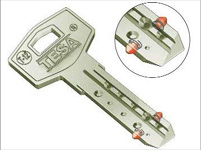 Lock Mechanisms
Click the image to the left to see the Lock Mechanisms page. This page breaks down some of the elements of lock design that are common across several locks. I plan to discuss and show features like sidebars, sliders, profile pins, keyways, etc... If you see some terminology while browsing this site that you don't recognize, try checking here.






Lock Safaris
This page shows some of the various locks (and other interesting security features) that I've seen out in town during my deployment to Africa.